Workshop Overview
Safe Transfer Technologies for Moving People.
Many injuries occur in the health sector as caregivers continue to use outdated methods to lift and transfer clients. They use their own bodies as mechanical cranes to move people, and as a result, overexertion back injuries are the highest among health care workers.
The No-Lift Moves and Transfers™ workshop prevents injuries by teaching the most advanced and effective techniques and incorporating functional technologies for moving and transferring people.
This unique program will help your organization comply with Worker's Compensation Board OH&S regulations for moving toward safer client handling practices.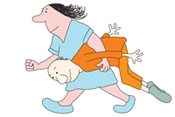 No-Lift Moves and Transfers™ is best suited for:
Staff whose work duties include lifting and transferring people or objects.
Caregivers in hospitals, care facilities, group centers, and private homes.
Workshop Length: 1/2 day to full day.
Pre-requisites: Back in Control™ program recommended
Reference materials: Handouts and materials for each participant
Participants will learn:
The "7 steps to Effective Body Moves"
The "Quick Scan" for determining client's ability to help
Identification and assessment of risk factors associated with lifting people
Safe techniques for moving people with varying levels of mobility from clients who can walk to those who are totally dependent.
The emphasis of this workshop is on minimal lift procedures instructed by a physical therapist. Participants will become competent in using good body moves and will have practised and mastered a variety of techniques, including the use of assistive equipment.
The "No-Lift" concept is endorsed by the Worker's Compensation Board, the Association of Health Care Unions, and the Health Employers Association of BC.
Contact Free to Be to arrange a workshop.
Click here for a printable workshop overview.
Workshops Participants Speak: Read testimonials from this and other workshops.