Back pain is the #1 problem facing the workforce in North America today. It is estimated that 80% of the population will experience back pain, and for some, this is a life changing occurrence.
The Back in Control™ workshop trains participants in how to prevent these back injuries by understanding the workplace risk factors and their own body movements.
This experiential program develops problem solving, encourages critical thinking and improves personal responsibility for safety.
Back in Control™ will assist your organization to comply with the Worker's Compensation Board Ergonomics MSI Requirements of the Occupational Health & Safety Regulations.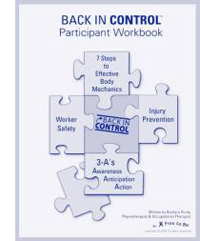 Best suited for workers whose duties require:
moving and transferring people or objects
long periods of standing, bending or sitting
repetitive tasks
Workshop Length: 4-5 hours
Reference material: Back in Control™ Participant Workbook
Participants will learn:
Causes of Musculo-Skeletal Injuries (MSI)
The "7 Steps to Effective Body Moves"
Identification and assessment of risk factors in workplace
Problem solving for injury prevention
Exercises to promote back health
Workshop Flexibility:
Back in Control™ is easily tailored to meet participants' specific needs. For example, the session addresses the actual work situations that employees encounter i.e. hospital, business, industry etc.
Contact Free to Be™ to arrange a workshop.
Click here for a printable workshop overview.
Workshops Participants Speak: Read testimonials from this and other workshops.