In an emergency, can you safely evacuate people while protecting yourself from injury?
The Get Me Out of Here!™ workshop will teach you how to assist evacuees with varying levels of mobility while helping prevent an injury to yourself.
This experiential program teaches two levels of skill that must become instinctive to be effective in emergencies: good body moves and specific evacuation procedures.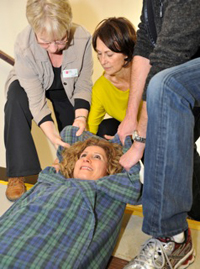 In the Get Me Out of Here!™ workshop you will:
Learn:
the "7 Steps to Effective Body Moves"
unique evacuation techniques using no equipment
how to include props to support and protect you
Practice moving people who:
are disoriented or confused
need help standing or walking
are on the floor
can't manage stairs
are wheelchair dependent
are in bed
The Get Me Out of Here!™ workshop will help your organization comply with the Worker's Compensation Board WCB regulations to reduce the risk of injury to workers. It is adaptable to fit employee needs and is suitable for staff in health care, emergency services, industry and tourism.
Contact Free to Be to arrange a workshop.
Click here for a printable workshop overview.
Workshops Participants Speak: Read testimonials from the Get Me Out of Here!™ workshop.
Click here to purchase the Get Me Out of Here!™ DVD and Training Manual