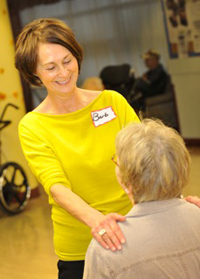 Let Barbara Purdy train people in your organization to deliver the Get Me Out of Here!™ workshop professionally and effectively. Having an in-house trainer means you can hold Get Me Out of Here!™ workshops at your convenience, with the assurance of a top-quality learning experience for your staff. This workshop can be delivered by your staff in one-hour modules and can be tailored to add training for your specific emergency evacuation equipment.
The Train the Trainer program may involve up to two days instruction depending on the knowledge and familiarity of kinesiology of your staff member.
We would be pleased to discuss further possibilities of how the Train the Trainer Get Me Out of Here!™ program can work for your organization. Contact us for more information.