Do you spend time at a computer?
Do you want pain free back, neck and shoulders?
Do you want to avoid Carpal Tunnel Syndrome?
Then this program of Awareness, Anticipation and Action is for you.
If you work in an office, you should know that workplace injuries are frequent, widespread and increasing. Many people experience aches, pains, numbness, tingling and fatigue impacting their work and quality of life. However, you can prevent workplace injuries. You need to know and understand the ergonomic risk factors that cause these injuries and learn how to control them.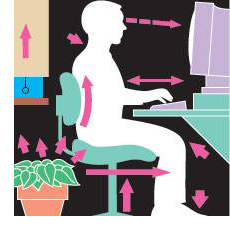 In The 3-A's of Office Ergonomics program, you will be given the knowledge and tools to ergonomically organize and interact with your workspace. You will learn how to move your body to effectively create safer work patterns. Changing your work habits are equally as important as changing your office equipment to prevent a work related injury.
In addition, in this workshop you will:
Learn to adjust office equipment to fit you
Discover 3 effective actions you can do to relieve pain
Understand the 4 components that must work together – chair, keyboard, mouse, monitor
Know how to purchase appropriate equipment
This program would benefit everyone, but especially:
Office workers
Computer users
Sedentary workers
Workshop Length: 2 hours
Pre-requisites: None
Reference material: Handouts
Contact Free to Be to arrange a workshop.
Download Office Ergonomics – 9 Components for a Healthy Workstation
Workshops Participants Speak: Read testimonials from this and other workshops.